35 SaaS Email Ideas to Boost Retention (+ Examples)
Email is a wonderfully diverse tool to incorporate into your marketing ecosystem. But sometimes, you run out of ideas. Or you aren't sure where to even start.
That stops now! Keeping users engaged and participating in active dialogue helps you focus on customer success and ultimately reduces churn. Let's explore some new ways to use email and look at a few examples.



SaaS Email Marketing Examples and Ideas
Even though we're just focusing on engagement and retention emails in this post, I've broken them down into categories.
Learn
As your user's needs and goals evolve, so must you. Learning about where users are now and where they'd like to go helps you prioritize your efforts across the entire org.
Create a "choose your own adventure" email course to learn user priorities

Send an annual industry survey to learn from them + share the results

Invite users to an annual check-in call

Ask customers to leave a review or NPS rating

Ask users to click on their favorite feature from a list

A/B test using different use cases or USPs when introducing a new feature

Ask for user answers to business/industry questions and share results with the community

Invite users to be the first to test a new feature
Teach
I think one of the most useful (but sometimes overlooked) ways to increase retention is by focusing on becoming a resource to customers. Your product is obviously important, but providing free value and becoming a thought leader goes a long way in maintaining the relationship.
Provide a free guide

Send an interesting industry stat or trend

Record an interview with an industry leader

Invite to a webinar

Share work or productivity tips

Summarize most interesting learnings or discussion from conferences

Reintroduce an existing (even underused) feature

Show off an interesting way to use different features together to accomplish a task

Remind users about your other social channels or communities

Answer commonly asked questions

Present new business strategies

Promote outside resources

Offer to send a suggestion to their top problem

Provide resources for particular niches or roles
Inspire
Everyone needs a little boost sometimes. Inject your customer's journey with a little inspiration and positivity to help keep them from burning out.
Share user stats or congratulate progress

Highlight customer wins

Give stats on productivity of entire customer base

Create a competition among the community

Show examples or results from using a feature
Grow
What's even better than retention? Upselling. It won't be the answer for every user, but you can use email (among other customer success tactics) to draw attention to bigger plans.
Promote referral program

Have a flash upgrade sale

Talk about use case for feature or level only available in higher plan

Connect a higher-plan feature to achieving a coveted business goal


Storytime
Introduce customers to your team

Share the thought process behind your business decisions

Celebrate with them when you hit a business goal

Tell a funny company story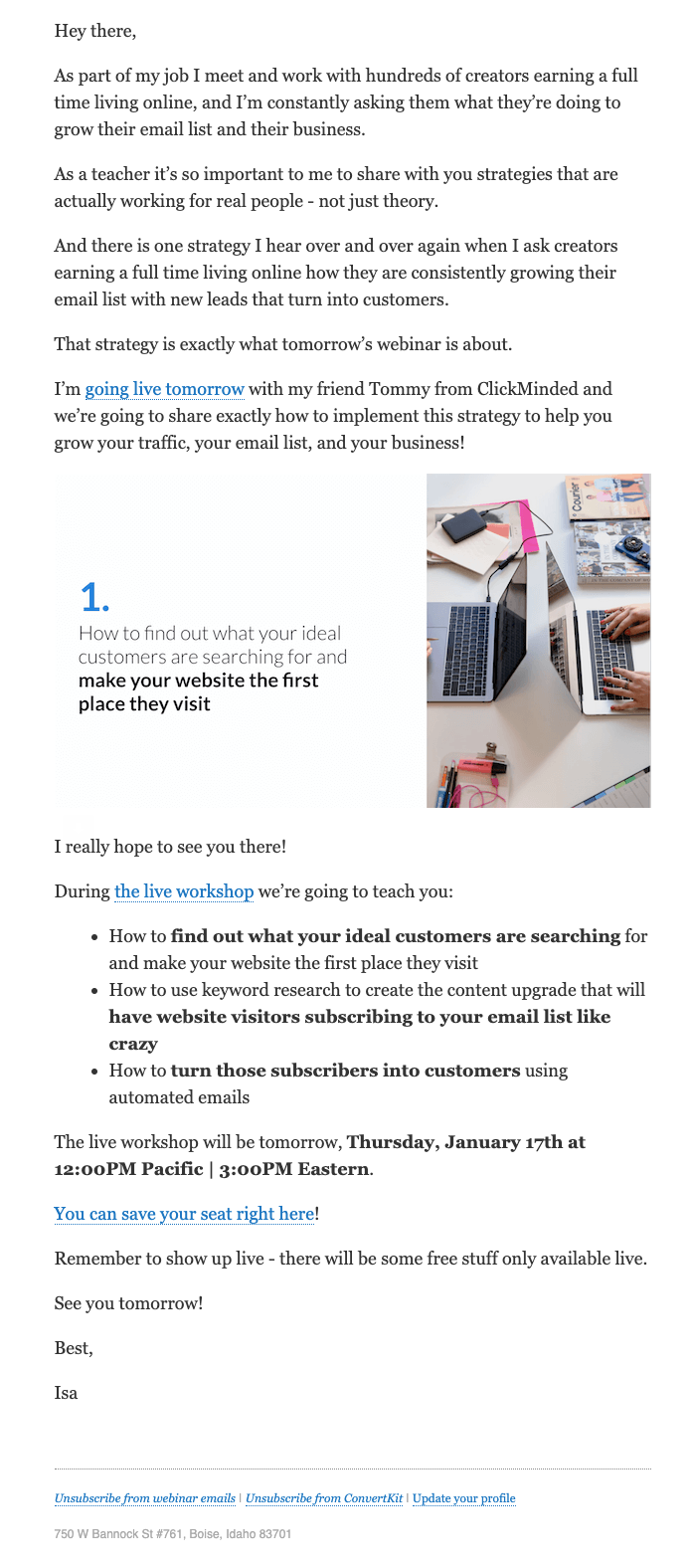 Want to know when to send SaaS emails and what to say?